Grey Neck Tie, Pocket Square And Cufflinks Combo Gift Set
Sale price

Rs. 1,195

Regular price

Rs. 1,495

Unit price

per
Free Shipping On All Orders Above Rs.395
On Occasions like Diwali, Christmas and New Year, give your employees the best gift possible and bring a smile to their faces! The Grey Necktie & pocket square with cufflinks set is the most desired gift by all men and thus will always live up to your employees' expectations.
The men's tie gift set is formulated keeping in mind a grey colour scheme. All the items in the set are colour coordinated and complement each other perfectly. The tie is made of microfiber material, a combination of polyester and polyamide materials. The pocket square is made from the same material, and both these items are of high quality and are resistant to stains! The cufflinks add grace and class to this set and enhance the formal look by many folds.
The tie with cufflinks set is put together in a wonderful wooden box which adds aesthetic value to the gift. The box is perfectly crafted and thus does not need any further packaging. The box also protects the items from any exterior damage.
The tie cufflink gift set can not only be a formal gift but also be a surprise for your loved ones. If you are looking to give something unique yet lovely to your partner for Valentine's day, this tie set is the best combo gift for him. The Grey Neck Tie, Pocket Square And Cufflinks Combo Gift Set is a superb addition to your formal clothes collection. The set can be paired with suits of different colours like black and grey and worn to formal and informal events.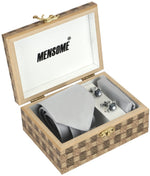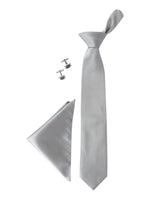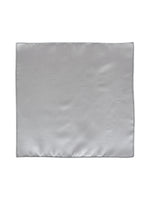 Sale price

Rs. 1,195

Regular price

Rs. 1,495

Unit price

per
Description
Send your team the nicest present imaginable on holidays like Diwali, Christmas, and New Year's to make them happy! Since the Grey Necktie & Pocket Square with Cufflinks Set is the most coveted present among men, it will always meet the standards of your staff. The tie and cufflink gift set can be a delight for your loved ones as well as a sophisticated gift. This tie set is the ideal combo gift for him if you want to give him something special and beautiful for Valentine's Day.
The guy's tie gift box was created with a grey colour palette in mind. The set's pieces are precisely matched in terms of colour and complementation. The material used to make the tie is microfiber, a polyester and polyamide blend. The pocket square is made of the same fabric as the shirt, and both of these pieces are of excellent quality and stain-resistant! The cufflinks elevate the formality of this ensemble by adding grace and elegance.
The grey tie pocket square combo set is put together in a lovely wooden box, which gives the present more artistic merit. The box doesn't require any additional wrapping because it is expertly made. The box also shields the items from any harm from the outside.You should definitely include the Grey colour Tie, Pocket Square, and Cufflinks Combo Gift Set to your wardrobe of formal attire. The set can be used with suits in a variety of colours, including black, grey, white
If you are stumped or out for gift ideas, we got you covered with this smartly curated gift box which offers an interesting variety of men accessories. This set includes a necktie, pair of cufflinks and a pocket square which is colour coordinated with each other. With everything comes in a bright grey colour, the accessories are neatly placed in a classy and unique wooden box which completes this set effortlessly.