Natural Anti Bacterial and Anti Fungal Body Wash
Sale price

Rs. 445

Regular price

Rs. 595

Unit price

per
Free Shipping On All Orders Above Rs.395
MENSOME Moisturising Antifungal Body Wash Is Made With Pure Neem Oil, Turmeric Oil, Eucalyptus Oil And Oregano Oil. This Body Wash Is Gentle For Both Men And Women Across Different Age Groups For Daily Use. This Purely Antifungal and Antibacterial Body Wash Is Designed To Keep You Feeling Refreshed and Smelling Divine.

MENSOME Antifungal Body Wash Contains 100% Natural Ingredients Which Are Completely Safe And Free From Harmful Chemicals. MENSOME Antifungal Body Wash is Well Suited For Almost All Skin Types. This Antibacterial And Antifungal Body Wash, Washes Away Germs Contracted After A Sweaty Gym Workout, Cycling, Running Or Any Other Physical Activity. MENSOME Antifungal Body Wash Comes In A 300ml Sized Bottle. Our All Natural Antifungal Body Wash Helps In Naturally Moisturising Your Skin And In Preventing Body Odour And Skin Acne.

If You Are Looking For Better Solution To Ease Your Eczema? MENSOME Antifungal Body Wash Is One Of The Best Solution As It Is Gentle On The Skin And Helps Moisturise It. Perfect For Athletes Since They Sweat More Due To Over Exposure To Sunlight. In Addition, Sensitive Skin People Will Love This Body Wash As It Is Mild And Made Using Natural Ingredients.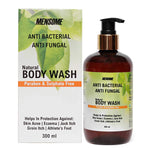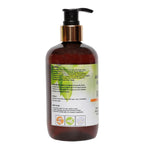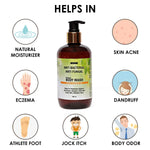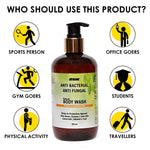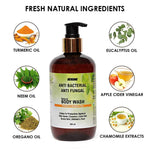 Sale price

Rs. 445

Regular price

Rs. 595

Unit price

per
Description

Benefits

Usage
Description
Pure Neem Oil, Turmeric Oil, Eucalyptus Oil, and Oregano Oil are used to make this amazing MENSOME Moisturising Antifungal Body Wash. 100% pure ingredients that are entirely healthy and devoid of unwanted chemicals make up MENSOME Antifungal Body Wash. This antifungal body wash is mild enough to use on a regular basis on both men and women of various ages.
Moisturizing antifungal body wash made with pure tea tree oil, neem oil, peppermint oil, oregano oil, this body wash is gentle for all ages of men, women and teens to use daily.
This antifungal Body Wash Is Created To Make You Looking Lively And Smelling Fabulous. The bacteria germs that cause poor body smell are eliminated by this antibacterial and antifungal body wash. Additionally, these washes help oily skin and prevent excessive sweating. And thus now you will feel refreshed after a sweaty workout in the gym, cycling, running, or any other physical activity.
Our Anti Fungal body wash is free from sulfate, parabens, cruelty made with 100% natural ingredients this body wash is free from harmful chemicals and is well suited with almost all skin types.
This antibacterial antifungal body wash removes a number of skin contaminants that seriously damage your skin. And If You are seeking a better way to treat Eczema? One of the best solutions is MENSOME Antifungal Body Wash, and moreover, it is perfect for athletes because they perspire more as a result of excessive sun exposure. Additionally, because it is mild and made with natural ingredients, people with sensitive skin will adore this body wash. Furthermore, Most skin types are suitable for MENSOME Antifungal Body Wash. The MENSOME Antifungal Body Wash is packaged in a 300ml bottle.
This Anti Fungal Body wash is very helpful for the people who loves to sweat it out as it provides soothing comfort after workout and washes away germs contracted after a session in gym, cycling, running or any other sweating sport.
Benefits
Our Antifungal Body Wash Helps With Skin Acne , Eczema , Jock Itch , Athlete foot and many more skin infections.
Usage
1) Take the required antifungal body wash on your palm or loofah and rub it on your wet body.

2) Leave the Anti Fungal Body Wash for 2-3 minutes and wash it off with water.