Magnesium Oil For Joint pain and Bone Health
Sale price

Rs. 445

Regular price

Rs. 495

Unit price

per
Free Shipping On All Orders Above Rs.395
About Magnesium Oil
Mensome magnesium oil is mined from 300 million years old ancient seabed. This should be applied topically on daily basis.Topical application of Mensome magnesium oil promotes good bones healthTopical application of Mensome magnesium oil reduces joint pains significantly
Benefits
Mensome Magnesium Oil For Improved Bone Strength Mensome Magnesium Oil Helps To Improve Bone Mineral Density, Which Is Important In Reducing The Risk Of Bone Fractures And Osteoporosis. In Addition, It Plays A Huge Role In The Enrichment Of Bone Strength, Especially In The Case Of Older Women.
Mensome Magnesium Oil For Joint And Body Pain Low Magnesium Intake Is Associated With Increased Joint Pain Like Knee Pain. Magnesium Oil Relaxes Muscles And Nerves. It Acts Like A Plugin Nerve Receptors That Are Over-Stimulated. Magnesium Oil Reduces Pain And Improves Mobility In People With Nerve Pain And Chronic Lower Back Issues. It Also Eases Pelvic Pain Caused By Tight Muscles.
Mensome Magnesium Oil For Sore Muscles Magnesium Oil Plays A Key Role In Producing Energy. Thus, It' S A Vital Element For All Cellular Functions And Processes. Applying Magnesium Oil Helps Maintain Normal Muscle Function And Control Muscle Contraction. In Addition, Magnesium Oil Acts As A Relaxant And Helps Relieve Tight, Sore And Cramped Muscles.
Helps In
Promote Healthy Sleep
Halts chronic muscle cramps
Helps in join pain
Calms Rest Less Syndrome (RLS) symptoms
Promote strong bone health
Sore muscles
Stress and Relaxation
HOW TO USE?
Take few drops of oil and
Massage on affected area till it get absorbed.
Key Points To Remember :
While the magnesium goes to work immediately, you need to keep patience and be consistent as it may take some time before you see the full benefits. For some problems, Magnesium Oil works right away, but for others it could take few weeks to see any changes. If your body is severely magnesium deficient, it could longer time. We recommend customers to use the oil every day for at least 3 to 4 weeks to give the Magnesium Oil a sufficient amount of time to take full effect.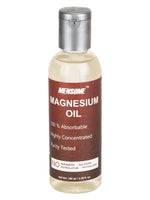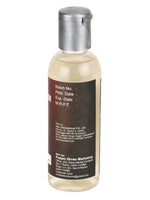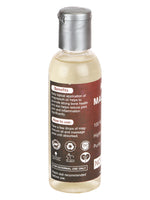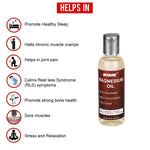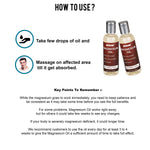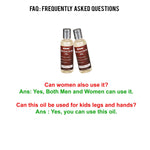 Sale price

Rs. 445

Regular price

Rs. 495

Unit price

per
Description

Benefits

Usage
Description
Magnesium Oil For Joint pain and Bone Health
Mensome magnesium oil for joint pain is a highly concentrated solution with pain-relieving and soothing qualities. This natural magnesium oil is extracted from the old seabed, lasting 300 million years. It comes in a portable flip-top container that delivers the needed amount of oil that avoids creating a mess. This oil for bone pain lacks sulphates, parabens, petrolatum, phthalates, and potentially harmful ingredients. It is derived from Bischofite rocks found deep beneath the seafloor.
This Magnesium oil is essential for everyone who suffers from joint discomfort. It is an excellent and appropriate solution for any skin. It should only be used topically. This best oil for joint pain when used topically supports bone health and greatly lowers joint discomfort. Apply a small amount to the skin and gently massage the spot until it is thoroughly absorbed. Prevent getting it in your eyes or on your bruises. This magnesium oil can be diluted if a severe tingling feeling emerges. Order the best magnesium oil online and get soothing benefits.
MENSOME Magnesium oil is a high concentration formulation with pain alleviating properties. It is provided in a portable flip top bottle that dispenses the required quantity of the oil without causing a mess.
Benefits
<h2>Benefits: Magnesium oil</h2>
1. Mensome Magnesium oil for improved bone strength
Mensome magnesium oil helps to improve bone mineral density, which is important in
reducing the risk of bone fractures and osteoporosis. In addition, it plays a huge role in
the enrichment of bone strength, especially in the case of older women.
2. Mensome Magnesium oil for Joint and body pain
Low magnesium intake is associated with increased joint pain like knee pain.
Magnesium oil relaxes muscles and nerves. It acts like a plugin nerve receptors that are
over-stimulated. Magnesium oil reduces pain and improves mobility in people with nerve
pain and chronic lower back issues. It also eases pelvic pain caused by tight muscles.
3. Mensome magnesium oil for sore muscles
Magnesium oil plays a key role in producing energy. Thus, it&#39;s a vital element for all
cellular functions and processes. Applying magnesium oil helps maintain normal muscle
function and control muscle contraction. In addition, magnesium oil acts as a relaxant
and helps relieve tight, sore and cramped muscles.
Usage
1) Apply few drops on the skin and massage the area very lightly till it is completely absorbed, avoid contact with eyes & bruises.

2) Oil can be diluted in water in case of strong tingling sensation.